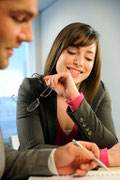 Management Consultation and EAP Training
These programs are designed to assist managers and executives in developing effective human resource practices to manage a high performance, customer-focused workforce. Programs are customized to the organization's culture and organizational strategic objectives.
Employee Orientation Sessions and Health Fairs…
Understanding the Benefit and Strategic Value of Employee Assistance and Corporate Wellness Programs

Accessing Employee Assistance and/or Wellness Services
 Management Programs and Dialogue Sessions…
Employee Engagement: Creating and Maintaining a Positive Work Environment

Change Management: Managing and Supporting a Resilient Workforce

Fostering a Collaborative Work Environment: The Art of Teambuilding and Conflict Management

Sustaining Productivity and Performance: How to Use EAP and Wellness as a Management and Behavioral Risk Management Tool

Organizational Stress, Wellness and Resiliency (Managing and preventing burnout for managers)

Violence in the Workplace: Prevention and Assessing Threats of Violence

Managing Downsizing and Reduction in Workforce: Managing Risk and Providing Outplacement Services

Domestic Violence: Understanding and Preventing Workplace Risk

Talking to Employees About Sensitive Subjects

Substance Abuse: What to Look For and How to Manage Interventions

DOT Compliance Supervisory Substance Abuse Training
 © 2013, Nadeen Medvin, Ph.D., PA, All Rights Reserved.