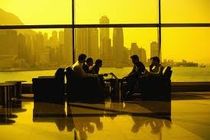 The Organizational Effectiveness Challenge
In today's economic and high performance-focused work climate, maintaining organizational and personal effectiveness is essential. Business and industry best practices demonstrate the success factors common to leading organizations include the ability to engage the workforce, cultivate talent, and manage performance and productivity – all while maintaining the "health" of the organization and workforce.
Why is it important for any organization to have a "human factors" performance strategy in place?
Leading industry surveys confirm today's workforce experiences greater disengagement, higher levels of personal and work-related stress, increasing rates of illness, substance abuse, and interpersonal and team conflict.
The Result:  Over one's career, close to 70% of employees experience personal and work problems that affect their daily functioning. Over 80% of employees indicate feeling the impact of stress to the point of burnout and personal illness that costs organizations over 150 billion annually. Numerous performance evaluation studies confirm that up to 20% of any given workforce has active problems requiring intervention to manage productivity, health, and risk to the organization.
A Human Factors Approach to Organizational Effectiveness
The human factors approach maintains a broad-based mission to align with the organization's strategic goals and enhance the quality and productivity of work life, by providing expertise and integration in areas of human resources, labor relations, and behavioral risk management.  Thus, enableing the use of innovative best practices and soutions to complex problems organizations and employees face today.
A strategically aligned human factors performance strategy provides a balanced, cost effective approach that is aligned with the organization's leadership, workforce, and strategic objectives.  As a performance enabler, it assesses, integrates, and enhances the organization through a collaborative process that serves the needs of the business and the workforce to create a unique business solution.
In addition, customized services provide convenient access to a broad range of expertise in the fields of mental health, mediation, executive coaching, organizational development, and metrics and measurement.  
Psychological Services…
Employee Assistance

Psychological Evaluations, Fitness for Duty

Assessing Threats of Violence

Crisis Incident Stress Debriefing (CISD)


FMLA Return to Work and Case Management Services

DOT Substance Abuse Evaluation, Consultation, and Training

Corporate Wellness, Occupational Health and Safety
  Human Resources…
Labor Relations (FMLA, ADA, Behavioral Risk Management)

Training and Organizational Development

Change Management

Outplacement Services


Mediation and Conflict Resolution

Executive Assessment and Performance Coaching

Organizational Culture and Climate Assessment

Strategic Planning

Program Outcomes Assessment and Evaluation
Business Process Analysis / Quality Management and Continuous Improvement

Customer Service and Consumer Behavior

                                                
The process begins with a needs assessment and collaboration with organization leaders to craft goals around the organization's mission, vision, values, core competency requirements, risk factors, and/or a specific business problem.
Outcome measurement can focus on specific organizational effectiveness indicators related to employee engagement, organizational culture and work climate, HR / risk management data, wellness programs, or healthcare utilization trends to manage costs and organizational effectiveness.
For More Information on Organizational Effectiveness Solutions Please Contact:
Dr. Nadeen Medvin
Clinical and Industrial/Organizational Psychologist
(305) 815-1129
© 2013, Nadeen Medvin, Ph.D., PA, All Rights Reserved.